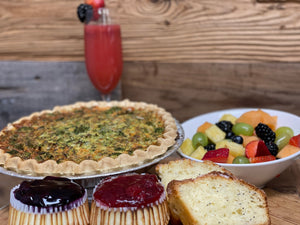 Easter Brunch Kit
Sale price Price $0.00 Regular price
This Easter Sunday, let us do the cooking for you. Spend some extra time looking for Easter baskets or searching for Easter eggs! This year we're offering a delicious brunch assortment (that can be made Gluten-Free) with everything you'll need for your Easter spread. 
Brunch Kits must be ordered by Tuesday, April 4th.
Pickup Only on Saturday, April 8th.
Each Brunch Kit feeds approximately 4-6 people and includes:
One (1) Quiche (your choice of vegetarian or with meat)
32 oz. Container Fruit Salad
Lemon Poppy Bread
1/3 Pan Homefries 
Bag of Coffee (Choose your grind)
6 Pack Mini Cheesecakes 
32 oz. House-made Brunch Punch (Peach, Raspberry Orange Juice)
Reheating Instructions