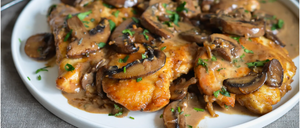 PB EATS - Chicken Marsala
Sale price Price $0.00 Regular price
PB EATS: Enjoy a new take 'n bake meal kit every Thursday. Our chefs will prepare dinner for you! All you have to do is pick it up, bring it home, follow our easy reheating instructions... and just like that, the whole family will be fed and happy! (You can take credit for making it on your own if you want... we won't tell!!)
NEW: Choose from 2 servings or 4 servings!
This week's special is a very popular PB EATS, so be sure to get your order in early! We'll be serving up Chicken Marsala (For Two or For Four) with all the fixings. Everything in this kit can be prepared Gluten-Free as well!
Order by Monday, November 13th for pickup on Thursday, November 16th!
Choose from Two Servings or Four Servings:

Chicken Marsala

Rustic Mashed Potatoes
Green Beans
Loaf of Ciabatta Bread (or choose GF option)
Flourless Chocolate Cakes
Reheating Instructions